Custom Jewelry
at JB Hudson

A talk with Katie Douglass
There are people who are naturally drawn to jewelry, and our in-house custom jewelry designer Katie Douglass is one of them. She loves working with clients to design the perfect piece, there is never a challenge too big for Katie. Here she is in her own words:
How did you first know you wanted to work in jewelry?
I actually didn't choose it, it chose me. My local jeweler had an opening for a sales position soon after I moved home from school. I had both sales and sketching experience, so I fit the bill. Ever since then I keep finding new ways to love jewelry. It has inched its way into my life in nearly every way - it is my passion, my career and it fuels my fascination which in turn adds treasures to my growing magpie hoard.
I should have known this was where I was going to end up though, from a young age my shelves have been stocked with intriguing rock specimens, costume jewelry begged for from my marvelously enabling mother and beads (believe me beads) galore.
Describe the custom process to someone who may be interested in working with you…
If you are interested in custom creating a piece of jewelry, the most difficult step is reigning in your ideas and deciding what exactly you want the piece to look like. I recommend looking through magazines, antique jewelry books, or scrolling through Pinterest. Once you have a vague inkling, we can set up a virtual or face-to-face appointment and I can assist you in getting your ideas translated into a sketch.
Then we enter the approval stages. First, sketch approval, next, CAD approval, finally (if needed), wax model approval. Your design can be altered at any stage in this approval process, but after this when the piece is cast into the metal it becomes harder to make changes. The piece is then finished, gemstones are set and your new one-of-a-kind masterpiece can go home with you! Custom is a great way to repurpose gemstones you may already have or to make a piece that you can imagine but cannot find anywhere else.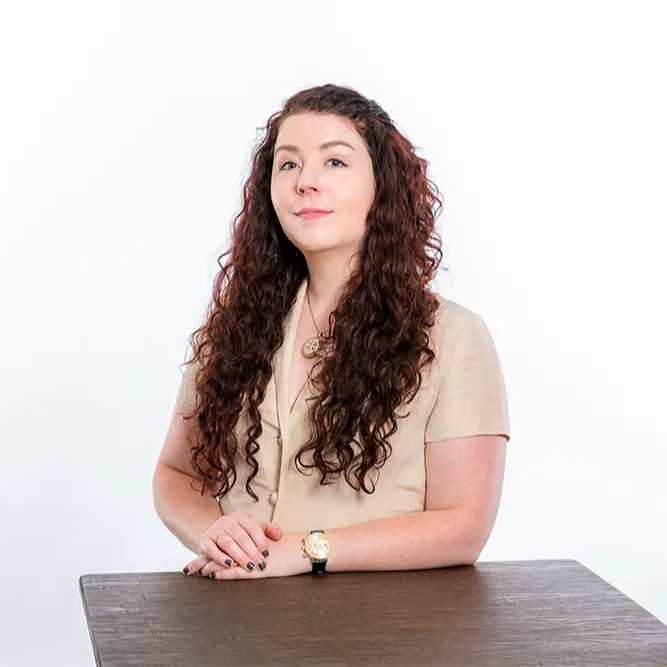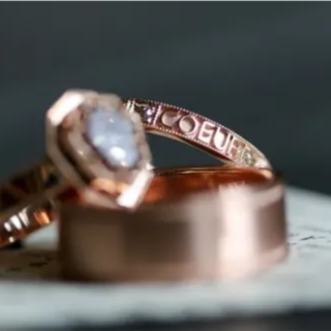 The diamonds featured in it are recycled from a ring he had given me previously - I am all about building new homes for the gemstones you have.
What is the favorite piece you've designed?
My favorite piece I have designed for myself has to be my wedding band, because it has a sampling of everything I love. It has a historical element - its inspired by a Posy Ring with an inscription running around its exterior. The inscription is in French, as my husband proposed in Paris. The diamonds featured in it are recycled from a ring he had given me previously - I am all about building new homes for the gemstones you have. Plus, champagne diamonds, rose gold and milgrain - my big three for any jewelry I make for myself.
What is your favorite part of designing jewelry?
I am a creature of creation. My brain is always turning on my next project (let's be honest - more like my next five projects). If I see someone wearing a coat I love, I mentally try to break it down to see how I could make it.

So, my favorite part of designing jewelry is the mental puzzle that happens when loose stones are given to me and I have to figure out how they all can fit together into something beautiful.